Memorials of World War II exist throughout Europe. The smallest of these are, perhaps, the most significant. Just look down.
These Stolpersteine, or stumbling stones, are placed outside of the former homes or places of employment (more on that in a moment) of people who were taken and brought to concentration camps during the war.
About the Stolpersteine project (and the NRW connection)
Today there are over 40,000 Stolpersteine in over 1,000 European cities. Köln artist, Gunter Denning, came up with the idea in the 1990s. During another project memorializing the Gypsies taken to concentration camps from Köln, a local resident told him that there were no Gypsies in that neighborhood. She didn't know the truth. There was no way for her to know the truth. He wanted to change that. (Source: Stolpersteine Gelsenkirchen)
It's easy to disconnect with an event that happened 70+ years ago. It's easy to think that somehow, the places we walk through and see today, were not as involved as they were. It's hard to visualize. The Stolpersteine is effective in altering that perception.
In 1995, he laid the first stones in Köln. He continues to lay stones throughout Europe today.
About the Stolpersteine
Each stone is roughly 10 cm square (or 4 inches) and only allows information for one person. There are particular specifications on what's on the stone and where it can be placed. From the application form:
Who gets a stone:
With this project, all persecuted or murdered victims of National Socialism are commemorated: Jews, Sinti and Romani, the politically persecuted, the religiously persecuted, Jehova's Witnesses, homosexuals, the mentally and/or physically disabled, forced laborers and deserters – ultimately all people who had to suffer under this regime.
Where the stone is placed
…if possible, the STOLPERSTEINE should be placed in front of the last self chosen residence – not at the place the victims were forced to move to. And, if possible, not in front of what the Nazis referred to as a "Judenhaus" (Jews' House).
The stone's heading
In most cases, the STOLPERSTEIN bears the heading: HIER WOHNTE (here lived).Further possibilities are: HIER LERNTE (here studied) or HIER LEHRTE (here taught); HIER ARBEITETE (here worked); HIER PRAKTIZIERTE (here practised); HIER LEBTE (for example, in case of having been committed to an institution).
The person's fate
As indication of the fate it is possible to put TOT (dead) or ERMORDET (murdered); for a fate unknown three question marks are used: ??? Instead of suicide we put FLUCHT IN DEN TOD (flight into death). We do not use the term "verschollen" ("missing"), nor the term "TOD" ("Death") since it suggests a natural death. Nor do we use the term "emigration". Instead, the stone will state: FLIGHT + year + the country of destination.
The process
In addition to making a formal application with the artist and the city officials, Demnig's suggests involving local organizations and schools in the research and organizational process. They try to include living relatives, the public, and current residents. With all the buy-in, it also helps avoid controversy.
The location of the blocks is also significant. They are centered in front of the doorway or house number on the sidewalk, as opposed to being centered in front of a building. When possible they are arranged so that spouses are next to each other. To indicate different generations, stones are layered on top of each other.
Stolpersteine Controversy
In this article on More Intelligent Life, it is noted that not everyone likes the Stolpersteine. With fewer memorials than victims, is it enough? Does it lose significance because of the placement on the sidewalk where people can (and do) walk all over them? Demnig feels the sidewalk is a better option because it's unavoidable and it doesn't need the approval of a building's landlord.
Still some cities don't allow them at all. They're allowed on private property, but cities have banned them on public sidewalks.
Even worst, there have been reported cases of vandalism on some of the sites. In my own neighborhood I have a suspicion that a Stolpersteine may have been completely removed. After learning more about the way these are placed, I think I might be right. While most of the sidewalk is roughly 30cm x 30cm, this one has several smaller sizes within it. Most of all, they're placed centrally in front of the door way. Here it is below, what do you think?
And then
Regardless of any controversy, the Stolpersteine evoke a reaction. Small in size, but large in effect. From Wikipedia:
Cambridge historian, Joseph Pearson, argues that "It is not what is written [on the stolpersteine] which intrigues, because the inscription is insufficient to conjure a person. It is the emptiness, void, lack of information, the maw of the forgotten, which gives the monuments their power and lifts them from the banality of a statistic."
The Frank family Stolpersteine
Anne Frank and her family's lived with Anne's grandmother in Aachen before moving to Amsterdam. This is where their Stolpersteine lay.
Stolperstein for Anne Frank at the Pastorplatz in Aachen, Germany, where Anne lived in 1933 with her grandmother Rosa Holländer.
Photo credit: © Túrelio (via Wikimedia-Commons), 2012 / Lizenz: Creative Commons CC-BY-SA-3.0-de
Stolpersteine for 3 members of the Frank family (Anne Frank), at the Pastorplatz in Aachen, Germany, where they lived in 1933 with Anne's grandmother Rosa Holländer
Photo credit: © Túrelio (via Wikimedia-Commons), 2012 / Lizenz: Creative Commons CC-BY-SA-3.0-de
Read more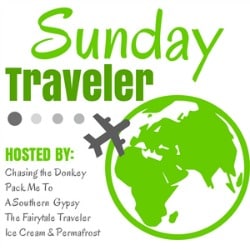 This post is part of the Sunday Traveler hosted by Chasing the Donkey and other travel blogs. Read more, great stories here.